[StageMinded Story] Kathryn McCormick on Purpose
WHY DO YOU DANCE?
Earlier this year at the Victorian Dance Festival, I was on a mission…
…to ask as many people as possible this one question:
Why do you dance?
Because WHY might just be the most important question any creative could ever ask themselves…
[pullquote]Your why is what keeps you being genuinely moved to move others…  [/pullquote]
Without your WHY you're just going through the motions. So, I asked and I asked and I asked.
I got hundreds of responses, but one of the quickest and most roll-off-the-tongue why's came from none other than the beautiful Kathryn McCormick.

"because I love telling stories & getting to meet people I would never had the opportunity to meet without it! :-)"
You could just tell she knew her "why" …
It came shining through in everything she did, moving her, moving everyone else she came into contact with.
Kathryn was at VDF as a guest instructor, and a fine guest she was. A So You Think You Can Dance Allstar, star of Step Up Revolution and competitive-dance documentary Like Air, her enthusiasm and joy spilled over and flooded a whole basketball stadium full of dancers lapping as she taught choreography and won hearts.
So it wasn't such a surprise to me when she looked me right in the eye before starting her next class and told me straight up, "I'm going to talk to them about purpose"…
She sat herself down on the edge of the stage, a flock of tiny dancers huddled around her and she talked about why they need to know their purpose when they perform.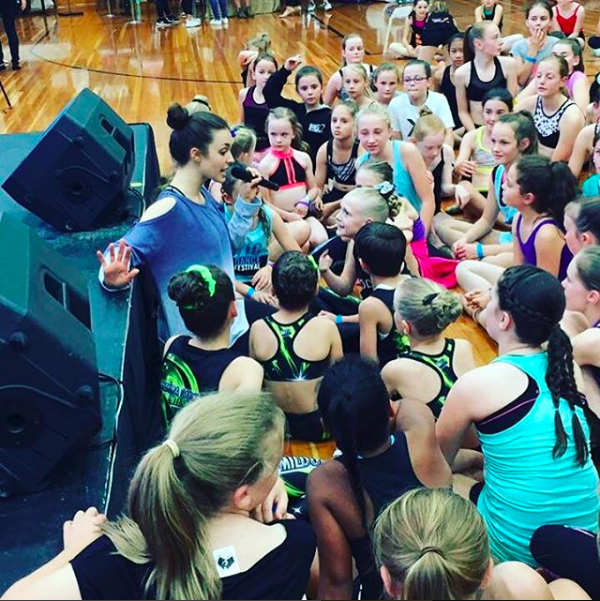 And all of a sudden these kids who'd been learning motions started really moving.
That's the power of knowing your purpose.
I knew then that I had to hear more from this woman with a WHY…
Finally, after finishing a busy season on SYTYCD Next Generation, nurturing the young Tate McRae into 3rd place, we had a chance to sit down for a cuppa (well virtually!) and talk more about purpose and Kathryn's why.
I'd love to invite you to pull up a chair and listen in, as Kathryn shares her performance journey on:
how finding her purpose gave her the courage to persevere before her career took off

how she handles failure and feeling like she's not good enough

why she loves technique so much …and so much more
Join us! And get inspired to find out your purpose as a performer…
Behind every great performer is a great mindset. Hear stories of a real performance mindset in action. 
: